The Scotch Whisky Experience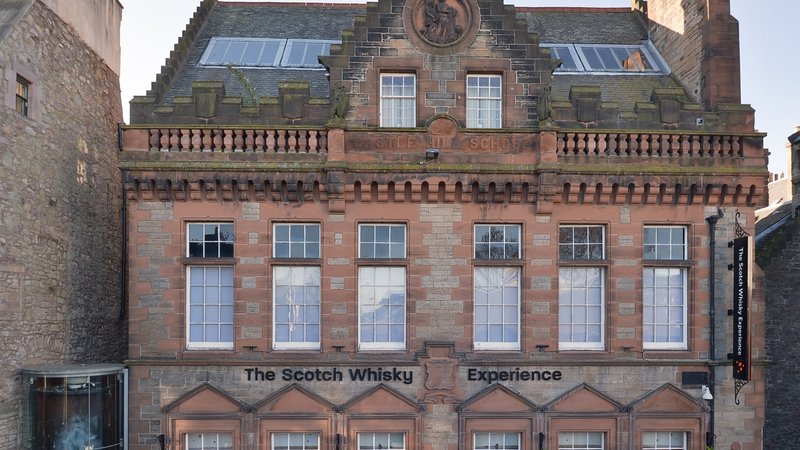 The Scotch Whisky Experience
"O thou, my muse! Guid auld Scotch drink!"
Robbie Burns
Scotland has always represented something of a pilgrimage for whisky lovers, but there's more to the country's whisky culture than distillery tours and trips to the Highlands. In the heart of Edinburgh, the Scotch Whisky Experience stands as a celebration of all things scotch, drawing visitors from all over the world - from dedicated whisky lovers and expert-tasters, to casual tourists wondering what all the fuss is about.
The Building
The Scotch Whisky Experience stands near the top of Edinburgh's Royal Mile, only a few metres from Edinburgh Castle's scenic esplanade and panoramic views of the capital city. The area itself is a tourist hotspot in its own right, but the Scotch Whisky Experience has carved out a distinctive space for itself as a showcase of one of Scotland's most fascinating and unique contributions to global culture.
The building which houses the Scotch Whisky Experience is a converted 18th century schoolhouse and stands amongst some of the most ancient architecture in the city - so its fitting that it should focus on the history and heritage of whisky - a drink which is as much a part of Scotland's identity as the bagpipe. The Scotch Whisky Experience seems to understand that whisky fans come from every walk of life, and has tailored its attractions to deliver both insight and entertainment: a recent upgrade saw the facility become fully wheelchair-accessible, while its tour packages provide insight and entertainment in equal measure.
The Tours
Upon entering the Scotch Whisky Experience, guests choose from a range of tour packages. There's a lot to discover on a journey through Scotland's whisky heritage, but although each tour includes something different, all are built around a core experience. First off, is a 'whisky-barrel' ride in which guests clamber into a barrel-themed carriage and explore a virtual distillery complete with giant sparkling bubbles and a variety of oversize production paraphernalia. The tour takes the unvitiated through the basics of whisky distillation but also offers a colourful new perspective for those familiar with the process.
The virtual distillery tour leads into a different kind of experience: an interactive, sensory presentation dedicated to the aromas of scotch whisky. Accompanied by a helpful guide, a 180-degree screen depicts the various whisky regions of Scotland and guests use a 'scratch-and-sniff' card to take in those aromas firsthand. It's a fresh perspective on the whisky experience - and especially fun for children or other whisky newcomers.
The Tastings
The moment most whisky fans are waiting for isn't far away: the Blender's Sample Room, and a guided scotch whisky tasting session. The amount of scotch available and the technical depth of the tasting varies depending on your tour package, but it's an opportunity to put the knowledge you've gained to the test on an authentic dram of fine scotch (or a soft drink for under 18s). The Scotch Whisky Experience is actually something of an institution when it comes to tasting: the building also hosts the Whisky School, which offers certification in whisky tasting - and there are plenty of options for booking private tastings - ideal for special occasions or work events.
The Collection
Whisky fans keen on building their home scotch collections won't want to miss the Diageo Claive Vidiz Collection. The largest of its kind in the world, 'The Collection' is an exhibition of over 3,000 individual bottles of scotch, beautifully presented in a marble and glass display hall. The Collection is a treasure trove for enthusiasts or whisky historians who will spot some of the rarest bottlings on earth - while kids can spend their time tracking down some of the more colourful and difficult-to-spot offerings.
Eat & Drink
Guests who want to take a bit of their trip home with them will find the Scotch Whisky Experience's shop as interesting as its tours and displays. Home to the widest range of whisky in the city, the shop features an extensive flavour map, and an interactive screen designed to help guests learn more about the whisky they're purchasing. Alternatively, if you've worked up an appetite, why not combine a dram of whisky with food at the Scotch Whisky Experience's Amber Restaurant. Amber offers a diverse mix of modern Scottish cuisine - accompanied, of course, by a predictably impressive selection of scotch.
Explore
Most visitors to Edinburgh come to explore the city's place in Scottish history and culture - and the Scotch Whisky Experience embodies that ambition beautifully, bringing the story of whisky to life as a fixture on Scotland's tourist trail. Ideal for groups, families, and couples, the attraction works as a stop on a larger tour, or on a weekend break in the capital, and should leave every visitor with a new appreciation - and taste - for Scotland's favourite spirit.